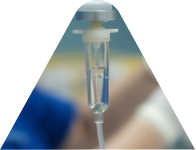 Convenient Infusion Therapy
WELCOME TO VIVO INFUSION
Vivo Infusion improves the health of our patients by delivering a new standard of infusion care. We provide individualized attention and compassionate care to every patient. Our dedicated team ensures each patient receives exceptional service, including the most up-to-date information regarding their health insurance benefits.
Link to: About
Exceptional Patient Experience
We welcome every patient warmly and professionally. Scheduling is flexible. Our locations are open weekdays, with weekend appointments available. Locations provide open and friendly environments that facilitate social engagement and suites that offer privacy.
"Superior patient care from the time you walk in the door until the time you leave."
Link to: Insurance
Insurance
We are in-network with all major payers. And we accept commercial insurance, Medicare, Medicare Advantage and Medicaid to expand access to care.
Loyalty
We earn the loyalty of our referring physicians. Our team members are an extension of the patient's clinical team. We provide patient feedback to the physicians throughout the patient's treatment.
"I absolutely love all of the staff members here. They have detailed knowledge and know their jobs."