Team Spotlight – Brooke Murdock
A passion for helping others and a knack for life sciences is at the core of this Vivo Team Member: a nurse in the making.
Meet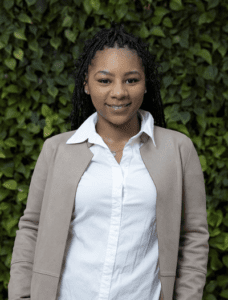 Brooke Murdock! Brooke is an experienced Medical Assistant contributor on our Ohio team. Her love for science and her passion for making a difference in healthcare help her provide the best care to our Vivo patients. She is currently working full-time while pursuing her associate degree in nursing. Brooke has her eye on the future, which includes one day owning and operating a med spa and hydration clinic.
When you talk to Brooke, it is immediately apparent how driven she is and that she has a fresh perspective on creating balance while challenging herself. She grew up in Ohio and comes from a strong family background. She has learned that she is resilient, can stretch far and doesn't shy away from challenges. Brooke left Ohio after high school to live in the Sunshine State, where she could experience something new and different. There, she attended Florida A&M. Ultimately, Brooke returned to Ohio, where she graduated from Ohio State University with a Bachelor of Science in Biology.
"I love my ID Consultants people. We were small, everyone is close, and we built a family," says Brooke. Brooke credits the amazing nurses surrounding her for her ability to learn and grow professionally. She adds that having this job while being in school has been a plus. It compliments her work, and she says, "The nursing team here has deep bench strength and experience. They have tons of tenure. I love them!"
Brooke will tell you that nothing worth having comes easy. She acknowledges that while she hasn't experienced significant life setbacks, she has learned to roll with the punches and take things as they come. Her advice to other professionals exploring this career path is, "Even if you don't know what you want to do, get in there and get the experience because there is a lot to choose from. Go with your heart, and you'll figure out what is meant for you. If you don't like a specialty, you can change it."
When you meet Brooke, it is clear she is on a journey, and she is enjoying the ride, soaking up all the experience she can from those around her and not wasting a minute. She reminds us that we all have the same 24 hours in a day and one life. Make the most of your time, and don't take any blessings for granted.
A fun fact about Brooke is that growing up, she wanted to be Beyonce's backup dancer. She is a trained dancer and loves creating choreography. When she was 15 years old, she was part of a choreography dance group, and as a member of this group, she danced at festivals and got bookings for shows. Brooke put her dance career on hold when she left for college. Dancing is still something she is passionate about.
Clinic Manager Jessica Caylor says of Brooke, "She has been pivotal in assisting Kristy, myself and Central Ordering in getting all Dayton meds to their correct location on the correct days. Brooke has been managing all check-in, packing and shipping from Beachwood to Dayton over the last several months. She has one year left until she graduates with her RN, and she is a difference maker for us".
https://vivoinfusion.com/wp-content/uploads/2023/01/vivo-infusion-logo.png
0
0
info@vivoinfusion.com
https://vivoinfusion.com/wp-content/uploads/2023/01/vivo-infusion-logo.png
info@vivoinfusion.com
2023-11-02 11:11:28
2023-11-02 11:11:28
Team Spotlight – Brooke Murdock