Team Member Spotlight – Mandy Wu
Meet Mandy Wu! Mandy is one of our Infusion Nurses who works primarily at our North Haven, Connecticut location, but she pitches in with frequency at both the Wilton and Farmington Clinics when needed. She comes to us from our CIVIC team. Mandy grew up in China in the Sichuan Province, the part of China that hosts Panda Bears. She moved to the United States with her husband about 19 years ago. They initially settled in North Carolina as her husband was attending a Ph.D. program at Duke University.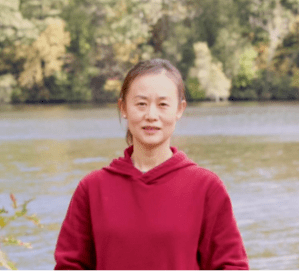 One of Mandy's aunts was a significant influence on her decision to go into the nursing profession. She had been an operating room nurse at one of the biggest hospitals in China. She taught Mandy the ropes, and after graduating, Mandy did her internship at the same hospital. Because Mandy is committed to improving the patient's health and lifestyle, she continued her career in nursing in the US after taking a 7-year break as a stay-at-home Mom with her boys, who are now 10- and 12-years-old. Mandy started working in a rehab center, caring for twenty beds a day. Her family moved to Connecticut after her husband found a position there. She joined CIVIC in January 2020 as the second nurse they hired. Before CIVIC, she honed her skills by providing nursing in rheumatology and oncology.To this day, Mandy is inspired by her aunt and her sister. She describes them as humble and hard-working. She aspires to be like them. Mandy's advice for others entering the healthcare profession is to explore different fields and opportunities. She says it is important to take the time to understand the various roles and specialties and to align your strengths with what you are passionate about. Mandy also says, "Take the time to get the education and experience so that when the opportunity comes, you are prepared to catch it."Outside of work, Mandy enjoys hiking with her family and dancing with friends during the Chinese New Year. She currently plays taxi driver for her children. Once they are on to their next phase, she will consider pursuing her master's degree in nursing, but she is plenty busy for now. Mandy loves her work, loves her patients, and her passion shows. She ensures that patients' physical needs are met and recognizes her role in supporting their emotional needs. Mandy's second family is her CIVIC team. She says she instantly loved her job and the team because everyone works as a team. They are very efficient, caring, and capable.
Regional Director Debby Rowland says, "I have had the pleasure of working with Mandy for over three years. She is the epitome of nursing excellence, is the consummate team player, and has unwavering kindness to her patients and coworkers. Mandy leads by example, and by her actions, she shows everyone around her that compassion is the most potent medicine. We are so thankful for Mandy… every day!"
https://vivoinfusion.com/wp-content/uploads/2023/01/vivo-infusion-logo.png
0
0
info@vivoinfusion.com
https://vivoinfusion.com/wp-content/uploads/2023/01/vivo-infusion-logo.png
info@vivoinfusion.com
2023-10-24 21:01:04
2023-10-26 09:05:27
Team Member Spotlight – Mandy Wu