Team Member Spotlight – Stacy Franklin
Our last several spotlight features have centered around our talented Clinical Staff.  This spotlight is the first time we are featuring a Team Member who sits outside of the clinic, but whose work has a tremendous positive impact on our patients and their experience with Vivo Infusion.
Meet Stacy Franklin!
Stacy is a Patient Resource Specialist II, working from her home in Texas, supporting teams across multiple clinics.
Stacy has always had a passion for helping others.  She is a caregiver by nature and is looked to for support from family and friends.  Stacy says, "I knew after high school that I wanted to get into healthcare.  I wanted to be the one for my family who could answer questions."  She originally started out in Oncology.  She discovered that she wanted to be able to spend more meaningful time with patients and wanted to make a real connection.  Stacy recognized quickly that some people "just need someone to talk to, even if it's just frustration" they are facing.  She has been a key resource in finding patients financial solutions and resources.
When Stacy came to Vivo she realized she was able to be more open with patients and take the time necessary to better serve them, making a real connection, and helping them find the support they need.  Stacy says, "It's a good feeling to know you helped somebody else."  She goes on to say that patients can feel like they don't have, or are out of, options.  That is when Stacy and the PROs team shine.  They find solutions and financial alternatives, and they help patients get on track with treatment.
Dawn James, Stacy's manager, recognizes the value she brings to the Patient Services Department (formerly known as the Revenue Operations Team).  Dawn says, "Stacy is passionate about patients as well as the PRO Team, and this shows in her work daily.  Stacy goes above and beyond to assist our patients, and our team with education and training.  Stacy is dedicated."
Stacy is inspired by her family and through helping others.  Before she graduated as a Medical Assistant, she started work in family practice working with autistic children.  She loves kids!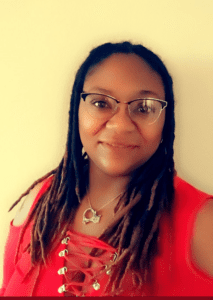 Focusing on family has kept her going and made it possible for her to juggle kids, school, and work.  Stacy has had her share of unforeseen challenges.  In 2006, her dog woke her up to flames over her bed.  Waking up in a burning house was a very scary moment in her life.  It also helped open her eyes to what was really important in life – helping others.
2019 was a big year for Stacy.  She got married and she became an ordained minister.   Her advice to others is to find your passion.   Find your passion and "keep going…don't let things stand in your way."
Some other interesting things to know about Stacy:
Stacy is expecting her second child, a little girl, in early to mid-November.
She is a Native Texan and has over 100 cousins.
Her grandmother is her biggest influence and motivator in her life – she passed 2 years ago.  Her grandmother's words to her echo still, "You got this.  Things will fall into place".
Stacy spends time outside of work volunteering, helping the homeless, and serving her community.
Teaches historical dance to youth around the DFW area and performed in the Fort Worth Parade on Juneteenth.
Unwinds with game night and karaoke.
According to the department's Director, Celestina Kubicki, Stacy has been a valuable asset to Patient Services since day one (starting in 2018).  Celestina says of Stacy, "(she) is dedicated to her team and the overall success of the department.  Her dedication is on full display each and every day in her interactions with the team and the patients we serve…She is greatly appreciated for the training and education that she provides."
Thank you, Stacy, for all that you do to help our patients in their journey; in easing their fears, bringing them solutions, and for lending an ear when they need it most.
https://vivoinfusion.com/wp-content/uploads/2023/01/vivo-infusion-logo.png
0
0
info@vivoinfusion.com
https://vivoinfusion.com/wp-content/uploads/2023/01/vivo-infusion-logo.png
info@vivoinfusion.com
2023-09-29 10:12:14
2023-09-29 11:30:39
Team Member Spotlight – Stacy Franklin