Team Member Spotlight – Jasmine Glover
This week we are shining our spotlight on Jasmine Glover!
Jasmine is a Clinical Service Specialist in New Jersey at our Cherry Hill location.  Jasmine joined our team earlier this year and since then, she has been going non-stop!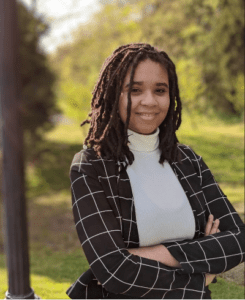 To say that Jasmine wears a lot of hats would be an understatement.  When she started, we were still doing lots of work transitioning the iCPA team into Vivo.  Change was the name of the game.  There was turnover, systems changes, and lots of moving parts.  Jasmine is a great example of how so many of our CSS team members just jump in, roll up their sleeves, and get things done.  She was able to work through tech issues early on and after getting her feet underneath her, has proven to be a solid performer that others reach out to for assistance and support.  She went from just trying to stay afloat at the beginning as the only CSS, to now being one of six CSS team members in the area.  She has seen the team grow and innovate, saying, "I've seen lots of improvement since I started…everything they said they would do and work on, has been done; they (the team) have delivered."
Daneen Kressley, Clinic Manager and Jasmine's immediate supervisor says, "Jasmine has consistently exceeded expectations and her attitude towards her job is admirable. She is a person who always goes the extra mile for her coworkers and clinic patients. She is a wonderful representative of Vivo and good customer service is essential to retention and our positive word-of-mouth advertising; Jasmine has all the qualities that we should model for this role. She has shown excellent initiative when problem-solving, always coming to the table with innovative solutions, and strives to embody the Vivo core values and the culture of niceness among her peers. She has been a lead and mentor to her fellow team members and has worked with leadership to tailor our Clinical Service Specialist training across Pennsylvania and New Jersey to individually meet the needs of each person who onboards with us. She always gives credit where credit is due and has grown with Vivo in her short tenure to prove that she is a rising star!"
Jasmine has her Master's in Public Health from Rutgers School of Public Health.  She shifted her educational focus after starting with Vivo because she likes the clinical aspect that nursing brings, and this exposure has opened her eyes to pursuing a Ph.D. in either Public Health or to pursuing an MSN program.  Before coming to Vivo, Jasmine did case investigations for COVID-19 at Cooper Hospital.  It was extremely busy, and it gave her exposure to being on phone calls with patients.  She did this for 3 ½ years and she was handling about 400 calls a day.  Jasmine has grown so much in a short time with Vivo and she continues to look to the horizon for new challenges.  She is assisting Dr. Robert Singh with clinical trials for MS patients, on top of her commitment to continued education.
Jasmine acknowledges the work can be challenging, and highly rewarding.  Jasmine keeps a fresh perspective and follows a philosophy that puts the patient first.  She says, "A smile does change someone's day.  At every avenue, be kind," and she approaches her work with the mentality and question, "What can we do to make it better for them (the patient)?"
Her advice to Vivo's new team members is, "Don't lose sight of why you're here.  Patient Care.  Keep that at the forefront of your mind".  She asks us all to remember that the people we are treating are living with long-term life-impacting conditions.  She says we can enjoy our jobs more by focusing on why we are here.
A few things about Jasmine that you won't see on her resume:
She has a vast imagination and enjoys creating poetry and writing.
Her mother was a strong influence on her, even as a very young girl.
She is an optimist and uses visualization in her storytelling and creative approaches.
She is the youngest of 6 and lost her mother at a young age.
Because she lost her mother to cancer, an early career interest was oncology.
Jasmine says, "I feel privileged to have the team that I have."  The feeling is mutual.  She attributes her success and drive to the team that surrounds her.  A big shoutout to the NJ/PA CSS Team:  Ashley Hunter, Nina Kaur, Erin Cofield, Denkera Chestnut, and Lynn Bannon; as well as a shoutout to the region's very talented nursing team.  Jasmine also credits the resilient and impressive leadership of Daneen Kressley and Debby Rowland. We are so grateful to you for all that you do.
https://vivoinfusion.com/wp-content/uploads/2023/01/vivo-infusion-logo.png
0
0
info@vivoinfusion.com
https://vivoinfusion.com/wp-content/uploads/2023/01/vivo-infusion-logo.png
info@vivoinfusion.com
2023-09-24 11:54:40
2023-09-24 11:54:40
Team Member Spotlight – Jasmine Glover