Team Member Spotlight – Jerry Zuniga
This guy jumps out of airplanes!
It's true.  Well, he used to when he was on active duty in the Army.  Meet Jerry Zuniga, one of our nurses who is part of our Valhalla, New York and Wilton, Connecticut infusion teams.  Jerry is our latest Team Member Spotlight!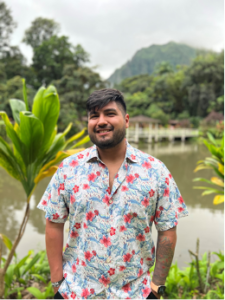 For 7 years Jerry served with the US Army as part of the 160th Special Ops Aviation Regiment (SOAR); also known as the "Night Stalkers". Jerry was a dedicated member of an elite team and has had numerous jumps – despite being terrified of heights.  He was a parachute rigger, testing out and packing the chutes.  Jerry served two deployments, both to Iraq.
Jerry is still elite in our books.  Jerry takes pride in his nursing skills and special talents to manage the difficult sticks.  Tracey Velo, Clinic Manager, and Jerry's immediate supervisor says, "Jerry has been such a valuable contributor to our team. He shows up every day with a smile on his face, ready to seize the day! He has taken on the role of a mentor and resource for his peers. He works diligently to grow his knowledge as an infusion nurse and is always eager to take on new challenges and opportunities."
Tracey goes on to say, "His positive mindset is contagious and helps create a work environment that is productive and enjoyable. Anytime we are faced with a challenge, he works to find the perfect solution. Most importantly, Jerry is patient-focused and loved by our patients. Even in the hustle and bustle of a busy day, Jerry always puts our patients' needs first. He prioritizes building a trusting relationship with them and serving as a resource as they navigate their chronic illness."
Jerry says that everything came around for him when he was in the service.  This is when his career path became clear to him.  He would ask himself, "What do I really want to do?" and his aspirations always came back to nursing.  During his last 2 years in the military, he attended night school and pursued nursing.  He got his degree at Pace University in Psychology and then attended an accelerated nursing program through Phillips School of Nursing Mount Sinai, graduating in 2019.  He continued to hone his skills at White Plains Hospital.  Before nursing school, he worked on the floor with patients in an ICU step-down unit, handling their care and gaining experience.  COVID was spiking when he started at Hudson Valley Hospital in June of 2020.  Jerry credits his hospital work experience as helping him increase his skills with IVs.  He knew he wanted to be on the infusion team and made sure he positioned himself with every opportunity to learn and enhance this skill set.  Ultimately, the team at CIVIC discovered him and recruited him, starting him out as Per Diem and ultimately making him full-time in 2021.  And the rest, as they say, is history.
Jerry is very appreciative of the opportunity that the CIVIC team presented to him and "the chance they took on me as a new nurse".  His advice to other early career professionals is, "If there is something you don't know, learn it.  Rise to the challenge, and be open to something new."  Jerry's motivation comes from his drive to be the best version of himself and to help patients with his skillset.
Some other interesting things to know about Jerry:
He was exposed to healthcare at an early age; at the age of 9, his younger brother, who was 6, suddenly passed away. Jerry's younger brother was intellectually disabled, and Jerry looked after him.
Jerry loves science fiction and is a big fan of Dune (the book and the movie).
Jerry is also a big fan of author Anne Rice and is reading her Vampire series and Mayfair Witches series.
95% of the time, he can get the hard stick on the first try!
He has met and shook hands with President Obama.
Thank you, Jerry, for being so committed to our patients and to your team.  You inspire us to keep learning, to keep growing, and to stay focused on what is meaningful.
https://vivoinfusion.com/wp-content/uploads/2023/01/vivo-infusion-logo.png
0
0
info@vivoinfusion.com
https://vivoinfusion.com/wp-content/uploads/2023/01/vivo-infusion-logo.png
info@vivoinfusion.com
2023-09-24 11:47:04
2023-09-24 11:50:26
Team Member Spotlight – Jerry Zuniga